CALLING ALL MEN!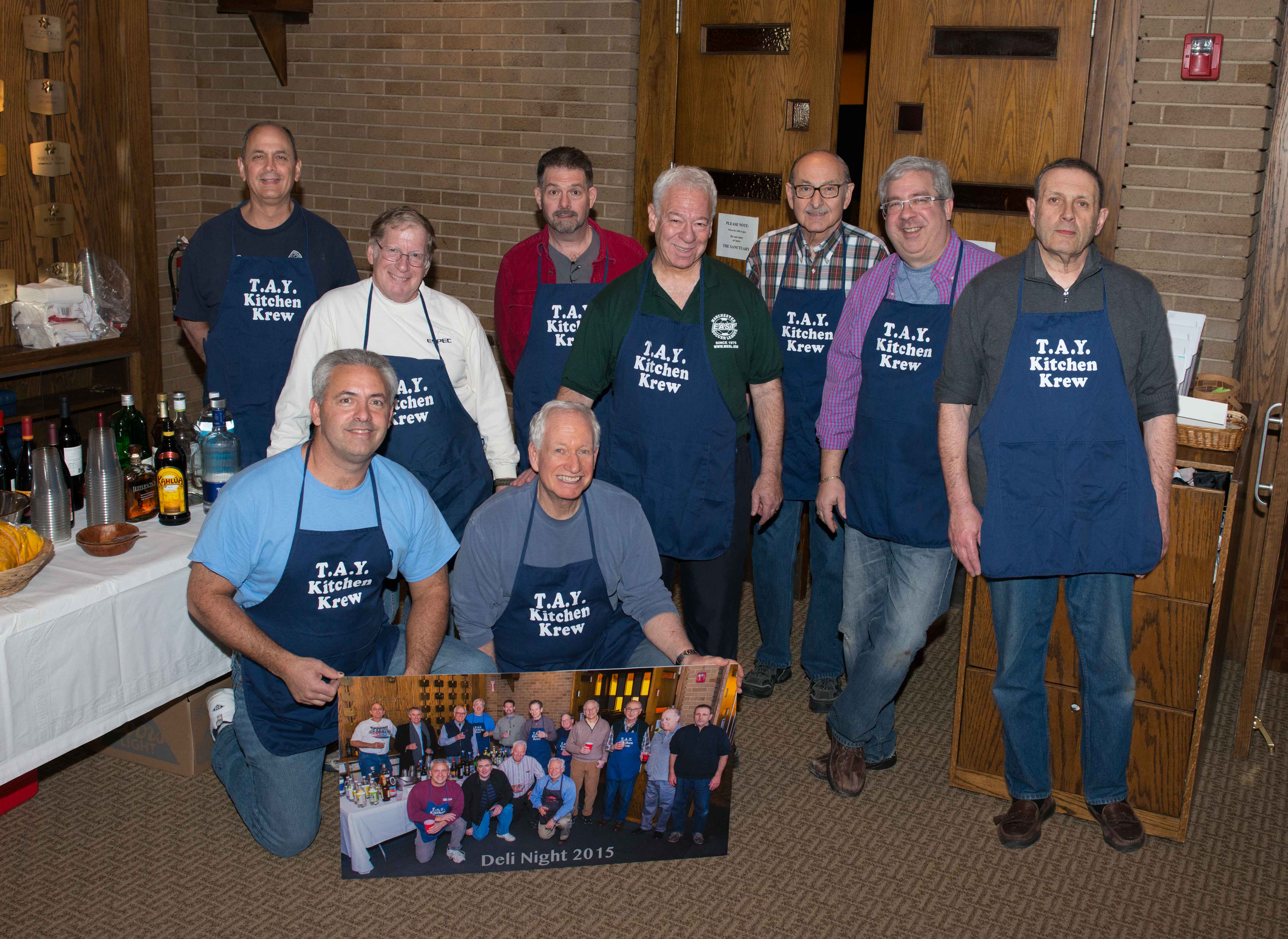 FOR OVER 50 YEARS THE BROTHERHOOD HAS BEEN A LOYAL AND STEADFAST CONTRIBUTOR, NOT ONLY TO THE WELFARE OF TAY, BUT TO THE JEWISH COMMUNITY, AND TO THE WHOLE REGIONAL COMMUNITY AS WELL.
OUR CHANUKAH PARTY AND OUR AMAZING PURIM CARNIVAL ARE BOTH OPEN, NOT ONLY TO MEMBERS OF TAY, BUT TO ALL JEWISH FAMILIES IN OUR COMMUNITIES. OUR CANDIDATES BREAKFASTS HAVE DRAWN IMPRESSIVE TURNOUTS TO HEAR CANDIDATES, OR THEIR SURROGATES, FOR LOCAL, STATE AND NATIONAL OFFICE. DELI NIGHT IS AN ANNUAL VERY SUCCESSFUL EVENT. AT OUR ANNUAL MEETING/BBQ IN JUNE WE PRESENT THE "SAMUEL SUGERMAN SCHOLARSHIP" TO THE CHILD OF A TAY MEMBER AND WE HONOR OUR "MAN OF THE YEAR". OUR POPULAR SENIORS DINNER IS OPEN TO ALL JEWISH SENIORS IN THE COMMUNITY. IN FEBRUARY WE SERVE BREAKFAST TO TEENAGERS FROM AROUND NEW ENGLAND WHO ARE ATTENDING MANTY WEEKEND.
THE BROTHERHOOD CHRISTMAS MITZVAH PROGRAM HAS FOR YEARS SERVED THE COMMUNITY WITH OVER 100 VOLUNTEERS WORKING ON CHRISTMAS EVE AND CHRISTMAS DAY, AT THE NEW HORIZONS SOUP KITCHEN, DELIVERING MEALS ON WHEELS, COVERING THE INFORMATION DESKS AT ELLIOT HOSPITAL AND CATHOLIC MEDICAL CENTER, AND HELPING WITH BINGO NIGHT AT THE VETERANS ADMININISTRATION HOSPITAL. WE ENCOURAGE FAMILY PARTICIPATION WHEN POSSIBLE. THIS PROGRAM IS VERY MUCH APPRECIATED BY OUR CHRISTIAN NEIGHBORS.
PAST EDUCATIONAL PROGRAMS HAVE INCLUDED TOPICS IN HEALTHCARE AND GENEALOGY.
BUT WE ARE NOT ALL WORK AND NO PLAY. WE DO HAVE FUN AND WE DO ENJOY A GOOD LAUGH, JOINING TOGETHER IN AN ATMOSPHERE OF CAMARADERIE AND BROTHERHOOD . PLEASE SIGN UP…COME TO OUR MEETINGS…HELP WITH A PROGRAM…MEMBERSHIP IS OPEN TO ALL MEN IN THE AREA WITH A CONNECTION TO THE JEWISH COMMUNITY… Annual dues are only $36.
If you have questions please contact Sol Rockenmacher (Rockenmacher@comcast.net) or David Penchansky (docpen@comcast.net)