Welcome to Temple Adath Yeshurun!
We are an historical congregation, nearly 140 years old.  While we take great pride in our Manchester past, we are also committed to our present and our future.  We offer an opportunity for those who so choose to worship, study, celebrate and mourn together; TAY is also committed to making our community and our world a better place, and so we are actively doing 'TIKKUN OLAM' — repairing our world through 'GEMILUT CHASADEEM' — acts of loving kindness. 
As Reform Jews,  we take seriously the mandate that each of us should make our own educated decisions about ritual and so you will find our families spread out across the spectrum of Jewish observance.  Each of us however, is dedicated to living an active and committed Jewish life, and we hope that if you are looking for a spiritual community to call home that you will consider joining the TAY Family.
Please feel free to contact me by phone (603-669-5650) or by email (rabbi@taynh.org) if I can be of assistance. 
L'Shalom,  Rabbi Beth D. Davidson
TAY Covid Policy
Mask Policy at TAY (Updated 12/15/2022)
On 12/16, masks became optional in the Social Hall, but will continue to be required in the rest of the building.
On January 13, 2023, masks will become optional throughout the building.
Why are we waiting? The holiday season is happily a time of travel, and of gathering with extended family, and so it is also a time of possible exposure to "new" infections. As a result, we are building in a ten-day waiting period in the New Year, to try and ensure those infections are not shared with our TAY community.
Covid infections are not over even for those who are fully vaccinated and boosted, so being in an unmasked/mask optional setting may put one at an increased chance of getting infected, and/or passing on the virus.  Because there are some folks in our congregational family who are immuno-compromised or have higher risks of contracting Covid due to other health issues, Shabbat Evening Services EVERY third Friday will be masks required.
Optional vs. required means that some at TAY will continue to wear masks, while others will not. We encourage everyone to be supportive of peoples' choices. We remind folks with/without masks to try and observe social distancing. We also ask that if you do not feel well, please enjoy services and programming from the safety of your home. Most of our Worship and Programming opportunities will be hybrid, so if you are sick, you can safely participate on Zoom.
The Reopening Committee will continue to meet, and should infection numbers change, we can always adjust our mask status.
We hope that this secular New Year is one of good health for all,
President Jake Berry, the TAY Board of Directors and Rabbi Beth D. Davidson
Gift Shop
Check out TAY's Gift Shop on the lower level!
Wide range of gifts for all your Judaica and holiday needs!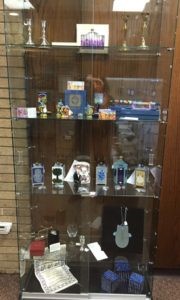 See's Candies Fundraiser
Once again,  Sisterhood is having its Annual See's Candies Fundraiser just in time for the holidays.  Download the  attached form by clicking the down arrow.  Orders are due by November 3rd to Ruthie Gordon with a check made payable to TAY Sisterhood.  Please send order and check to Ruthie's home address. Her address can be found in he membership directory or contact the office for her information. 
Candy will be delivered to your home address on or around December 10th. 
2021-fundraising-winter-Sisterhood-Candy