Welcome to Temple Adath Yeshurun!
We are an historical congregation, nearly 140 years old.  While we take great pride in our Manchester past, we are also committed to our present and our future.  We offer an opportunity for those who so choose to worship, study, celebrate and mourn together; TAY is also committed to making our community and our world a better place, and so we are actively doing 'TIKKUN OLAM' — repairing our world through 'GEMILUT CHASADEEM' — acts of loving kindness. 
As Reform Jews,  we take seriously the mandate that each of us should make our own educated decisions about ritual and so you will find our families spread out across the spectrum of Jewish observance.  Each of us however, is dedicated to living an active and committed Jewish life, and we hope that if you are looking for a spiritual community to call home that you will consider joining the TAY Family.
Please feel free to contact me by phone (603-669-5650) or by email (rabbi@taynh.org) if I can be of assistance. 
L'Shalom,  Rabbi Beth D. Davidson
TAY Covid and Security Policy
TAY Covid and Security Policy (Updated 2/7/2021)
Masks – anyone over 2 years of age must be properly masked while in the building (covering mouth and nose). These should be N95, KN95, multilayer surgical masks or multilayer cloth masks. Single layer bandanas are not adequate. Extra masks are available at the door.
Vaccination – proof of fully vaccinated status is required upon entrance* to the building.
a. Pfizer or Moderna two doses with a booster 5 months after the second injection
b. J&J – one dose with a booster 3 months after the initial dose
*You may send a copy of your up-to-date vaccination card to the office so your name will be added to the door list allowing faster check-in.
Check in also includes temperature check and no symptoms of active infection or recent exposure to Covid.
Social distancing of 6' should be maintained whenever possible in the building.
Protective gloves are provided in the sanctuary for handling of religious objects.
If you test positive for COVID-19 (or start displaying symptoms that are later confirmed by a positive test) within 5 days of being in the building, please contact the office so we may notify others who may have been exposed so they can get tested.
Please remember to call the office prior to Friday noon for reservations to attend Friday evening services at 603.669.5650 or RSVP to the Office at Contact Us
Services are open to all fully vaccinated members. Non-members are welcome but must call in advance for security clearance with proper identification as well as vaccination status.
Gift Shop
Check out TAY's Gift Shop on the lower level!
Wide range of gifts for all your Judaica and holiday needs!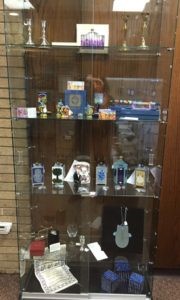 See's Candies Fundraiser
Once again,  Sisterhood is having its Annual See's Candies Fundraiser just in time for the holidays.  Download the  attached form by clicking the down arrow.  Orders are due by November 3rd to Ruthie Gordon with a check made payable to TAY Sisterhood.  Please send order and check to Ruthie's home address. Her address can be found in he membership directory or contact the office for her information. 
Candy will be delivered to your home address on or around December 10th. 
2021-fundraising-winter-Sisterhood-Candy